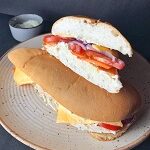 Print Recipe
Veggie Cheese Sandwich
Healthy and tasty veggie cheese sandwich is the perfect breakfast or lunch box recipe for both adults or kids.
For garlic cream cheese spread:
1

cup

cream cheese

2

clove

fresh garlic

½

tsp

dried parsley

2

tbsp

butter

Salt and pepper to taste
For the sandwich:
1

garlic loaf

2

carrots

thinly sliced

2-3

medium-sized onions

thinly sliced

2

medium-sized tomatoes

thinly sliced

3

tbsp

lemon juice

3-4

cheese slices

Salt and pepper to taste
In a bowl, add carrot slices, lemon juice and pepper. Toss to combine. Allow it to marinate for 15 minutes.

Add cream cheese, garlic, parsley, butter, salt and pepper to a blender. Pulse until combined.

Cut the loaf in half. Spread garlic cream cheese spread generously on both the sides of the loaf.

On the bottom slice of the loaf, add a layer of carrots, then tomatoes and ending with the onion slices. On the other half of the loaf add a layer of cheese slices.

Place the cheese side down and gently press the sandwich. Cut it in half. Serve immediately or wrap it with parchment paper and pack it in your lunch box.