Eggless Strawberry Jam-Filled Cookies
June 2, 2018
Eggless Strawberry Jam-Filled Cookies
An easy eggless cookie recipe. With strawberry jam stuffed inside the cookies. You can definitely use any other jam. I am sure you will love this recipe. Don't forget to share with me your experience.
Happy Baking!
Prep time: 20 minutes
Cook time: 15 minutes
Total time: 35 minutes
Yield: 16 cookies
Ingredients
1/2 cup powdered sugar
1/2 cup butter, softened
1 tbsp milk
1 tsp vanilla essence
1 cup all-purpose flour
1/2 tsp baking powder
1/2 cup strawberry jam
Cooking Directions
In a mixing bowl, add butter and beat till smooth and creamy. Here I am using salted butter but you can use unsalted butter.

Add powdered sugar and beat it again until fluffy.

Add milk and vanilla essence. Give it a mix.

In another mixing bowl, add flour and baking powder. Mix it well.
Then add the dry ingredients to the butter mixture and gradually mix it until everything comes together.

Allow the dough to rest in the refrigerator for about an hour.
Preheat the oven to 180-degree Celsius. Line a baking tray with aluminium foil. Apply butter and lightly flour the foil.

Take the dough out, using a 1-tablespoon measuring spoon, scoop out the dough and place it on a plate. Then with a 1/2-teaspoon measuring spoon, scoop out the strawberry jam and place it on the plate.

Make a depression in the centre of the dough ball and fill it with the strawberry jam.

Seal the dough ball and round it with your fingers.

Place the dough balls on the baking tray. Keep them 1-inch apart from each other.

Bake it for 10-15 minutes at 180-degree Celsius. As soon as the edges start getting a light brown colour, turn the oven off. But don't take the cookies out. Let the oven cool down a bit and then take the cookies out. Place them on a cooling rack. Allow it to cool completely.
Recipe Notes:
You May Also Like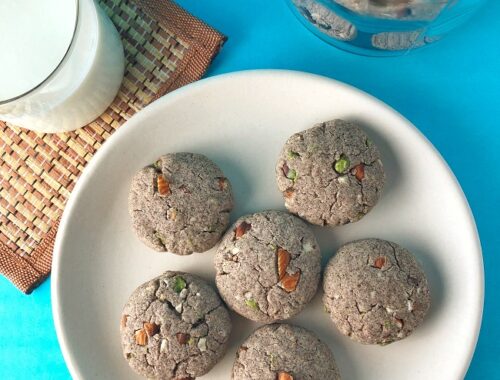 August 24, 2019