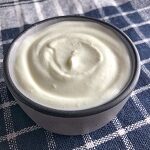 Print Recipe
How To Make Cream Cheese At Home
Learn how to make cream cheese at home with just 2-ingredients. Soft, creamy and mild-tasting fresh cheese is perfect for any sweet or savoury dish.
1-

litre full cream milk

2

tbsp

lemon juice

2

tbsp

water

Salt and pepper

optional
Heat milk in a pot over medium flame. Bring it to a boil and then lower the flame.

In a bowl, pour lemon juice and water. Mix well.

Add this lemon mixture to the milk, one tablespoon at a time and keep stirring gently.

As soon as the milk curdles, stop adding this mixture. Remove from heat.

Take a large bowl and place a strainer over it. Line the strainer with a muslin cloth. Pour the curd mixture into the strainer. Allow it to cool down.

Transfer it to a blender and process until smooth. You can season it with salt and pepper.

Homemade cream cheese is ready. Apply it over a toast or make cheesecake.
Store the cream cheese in an airtight container in the refrigerator for up to 7 days.
The thin liquid that is left after draining the cheese is known as whey. It is rich in protein, vitamins and minerals. Whey can be used in place of buttermilk or milk in baking. Like bread, pizza dough, etc.