Chilli Garlic Noodles | Garlic Noodles | Indo-Chinese Noodles
May 12, 2018
Chilli garlic noodles is an Indo-Chinese dish flavored with garlic and chillies. As the name suggests, it is slightly on the spicier side. It is spiced up with fried garlic, dry red chillies, green chillies, green chilli sauce, and black pepper. Chilli paste can also be used to make it spicier. But I prefer moderately spicy noodles. But you can adjust the amount of heat as per your liking. Here I am using sesame flavored oil. You can also use canola oil or peanut oil. It is a simple yet delicious noodle recipe. It requires very minimal ingredients. I am not adding any vegetables so there will be less chopping. It can be prepared in less than 20 minutes. So it is a perfect recipe for those lazy Sundays. It is best served with a Chinese gravy. You can also check out my stuffed potato in chilli garlic sauce recipe. Hope you will give this a try and do let me know how it turns out for you…
Ingredients:
250 gm noodles
2 tbsp finely chopped garlic
1 tsp finely chopped ginger
1 tbsp chopped green chilli
2 dried red chillies, deseeded
1 tsp chilli sauce
2 tsp dark soy sauce
2 tbsp vinegar
1 tsp honey
1/2 tsp black pepper
Salt to taste
3 tbsp sesame flavored oil/ sesame oil
For the sesame flavored oil:
1/2 cup oil
2 tbsp white sesame seeds
Method:
In a small saucepan/tadka pan heat oil on low flame. Then add the sesame seeds.
Fry till it is golden in color. Remove from flame and strain out the seeds using a tea strainer. Keep this oil aside to cool down.
In a pan add water, salt, and oil. Heat it on medium flame and then add the noodles.
Boil it according to the instructions mentioned on the package. It should be al dente. Do not overcook.
Drain it using a colander. Pour cold water over it to avoid overcooking. Pour a little oil on it and mix it well. This will prevent the noodles from sticking together.
In a bowl add soy sauce, chilli sauce, vinegar, honey, and black pepper. Mix it well and keep it ready.
Heat a wok on high flame. Add oil and then pour deseeded dried red chillies. Fry for a minute and then remove the chillies.
To the same wok add the chopped garlic. Cook till it is golden brown in color.
Add the chopped ginger. Cook till the raw smell disappears.
Then add the chopped green chillies. Cook for a minute.
Add the boiled noodles, toss well for a minute.
Then pour the sauce mix, toss again until well coated. Add salt.
Garnish with chopped spring onions and serve.
Note:
To get more recipes via Email, Subscribe to our Newsletter.
Also, follow us on Facebook, Pinterest, and Google+.
You May Also Like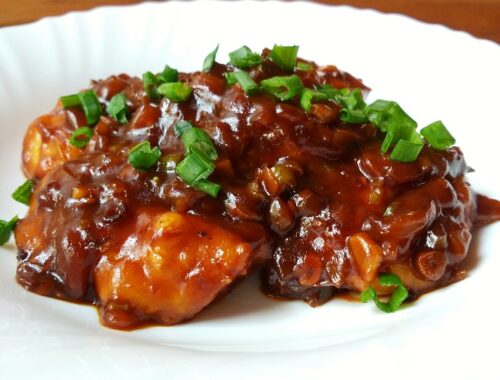 March 31, 2018