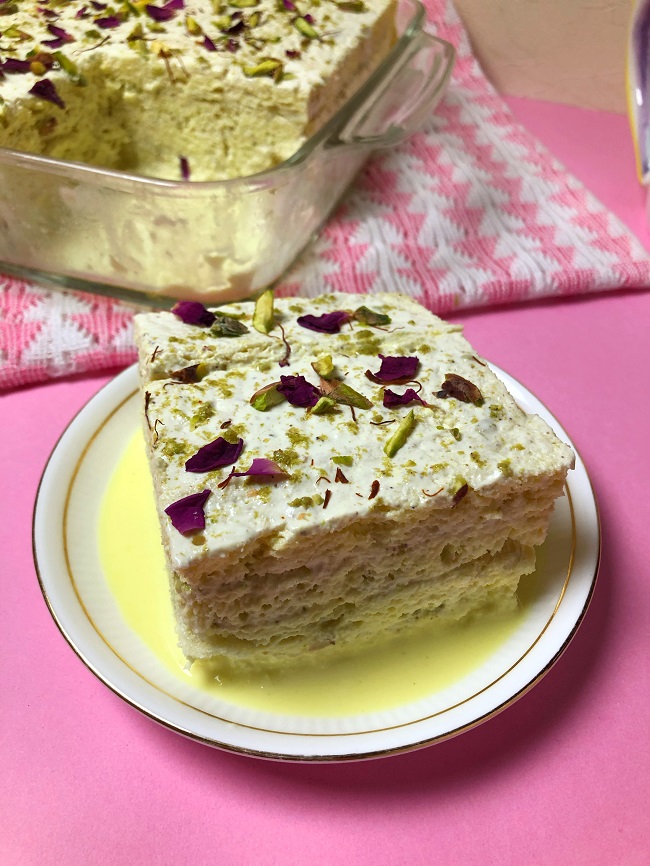 Instant Rasmalai Bread Pudding
December 14, 2020
Like this recipe? Share it!
This rasmalai bread pudding is the easiest dessert that you can make at home. It's effortless, doesn't involve baking and tastes extremely delicious. You just can't go wrong with this recipe.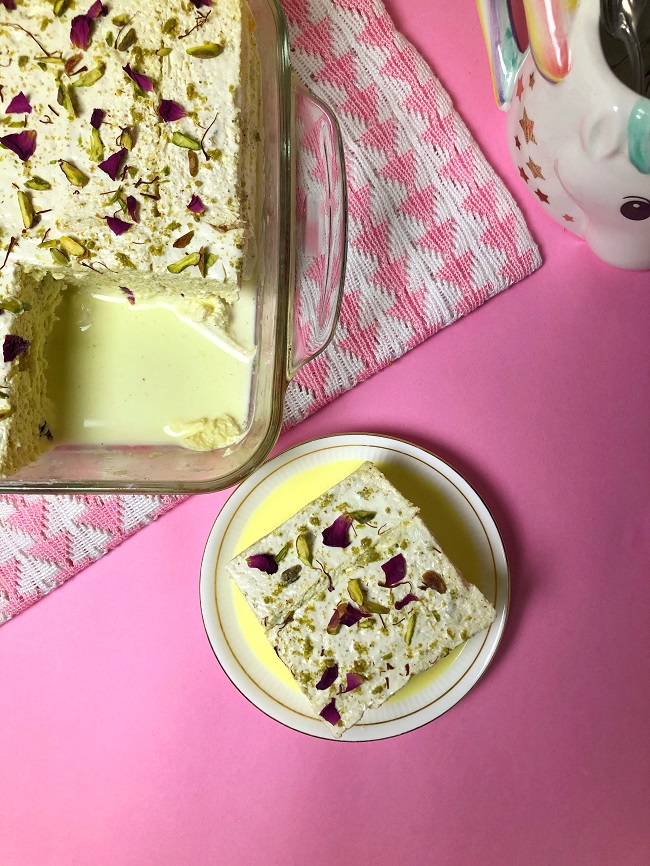 If you love rasmalai, then you will surely love this pudding. It has such a rich and creamy texture. This no-bake dessert is made with white bread, milk, fresh cream, saffron, green cardamom and pistachio. Just assemble them in a bowl and refrigerate it for a few hours. Ta-da! An easy peasy dessert is ready to serve.
This rasmalai bread pudding is quite similar to a rasmalai cake or a malai cake. But it is totally eggless and an instant cake. Layers of bread are soaked with an aromatic rasmalai milk and are topped with a generous layer of cream which is infused with green cardamom and pistachio.
This can be the perfect last-minute dessert for any special occasion. And it is also beginner-friendly. So if you are planning to make a dessert for your entire family or friends. Then do give this recipe a try. It will definitely impress everyone.
Watch the recipe video on YouTube:
Follow Tempting Treat on YouTube for deliciously appealing recipes!
Prep Time: 15 min | Cook Time: 2 min | Total Time: 17 min
Chilling Time: 5-6 hours or overnight
Serves: 6 people
Ingredients:
For rasmalai milk:
3 cups whole/full cream milk
2.5 tbsp sugar
2 pinches of turmeric powder (you can also use yellow food colour)
5-6 strands saffron
⅛ tsp green cardamom powder
For the cream filling:
2 cups fresh cream, I used Amul fresh cream
3 tbsp icing sugar
⅛ tsp green cardamom powder
2 tbsp pistachio powder
Other ingredients:
14-16 bread slices
1-2 tbsp pistachio, slices
Dried rose petals, for garnishing
Directions:
To make the rasmalai milk:
Take a saucepan and heat it over a medium flame. Pour milk into the pan. Then add turmeric powder and sugar.
Bring it to a boil. Then turn the flame off. Allow it to cool down a little.
Add green cardamom powder and saffron. Mix well. Cover the pan with a lid and set it aside to cool down. Once it becomes lukewarm or comes at room temperature, keep it in the refrigerator to chill for around 30 minutes.
To make the cream mixture:
Take a large bowl, pour chilled fresh cream and icing sugar. You can also use powdered sugar.
Using an electric whisk, beat the cream for a couple of minutes or until it becomes smooth.
Then add green cardamom powder and pistachio powder into the mixture. Mix well. Keep it in the refrigerator to chill for around 30 minutes.
Meanwhile, both the mixtures are chilling in the fridge, take the bread slices and trim the edges. Then cut each slice of bread into three pieces/strips. Repeat the same process for all the bread slices.
To assemble the pudding:
Take a square-shaped (flat-bottomed) glass bowl. Add a layer of bread strips on the bottom of the bowl.
Pour the chilled rasmalai milk over the bread slices. Make sure all the slices are completely soaked.
Then pour the cream filling over it and cover all the slices. The cream layer should be thin. Sprinkle pistachio powder over it.
Then add another layer of bread slices. Soak it with rasmalai milk, add a thin layer of cream and sprinkle pistachio powder. Keep repeating these steps until you reach the top.
Place it in the refrigerator and chill for 5-6 hours or overnight.
Garnish with saffron, pistachio slices and rose petals.
Using a sharp knife, slice the rasmalai bread pudding. With a flat metal spatula, lift it out of the bowl and place it over the serving plate. Pour rasmalai milk around the slice and serve it chilled.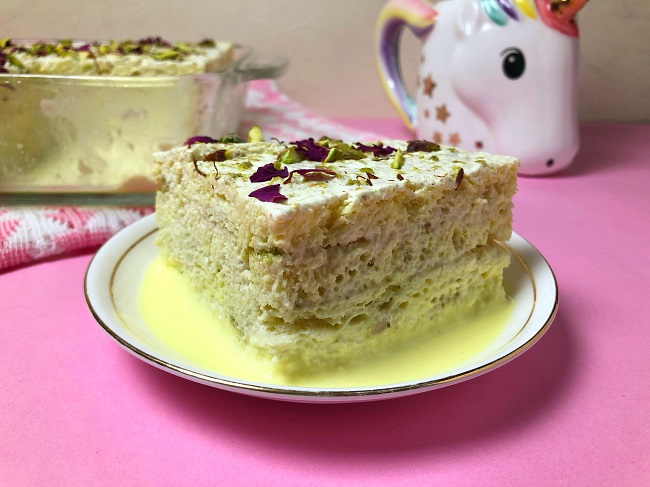 If you do try this recipe, please share your experience with me by posting a picture of the dish using #temptingtreat and @temptingtreat on Instagram or you can also give your feedback in the comments section below.
Happy Cooking!

You May Also Like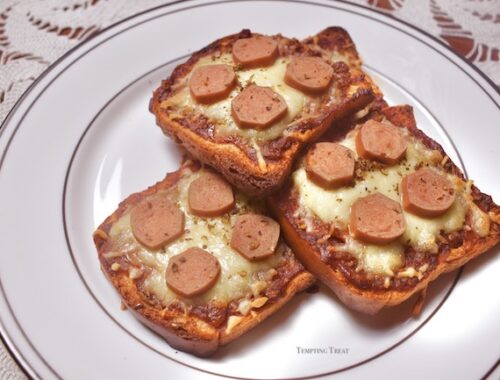 January 16, 2022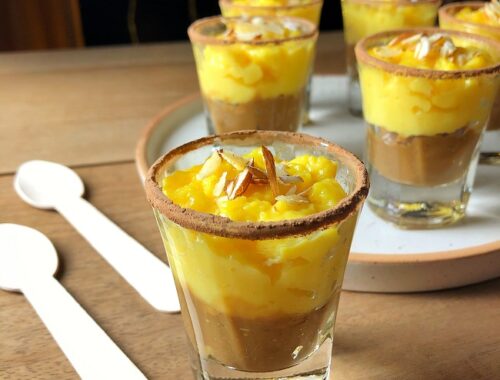 November 9, 2019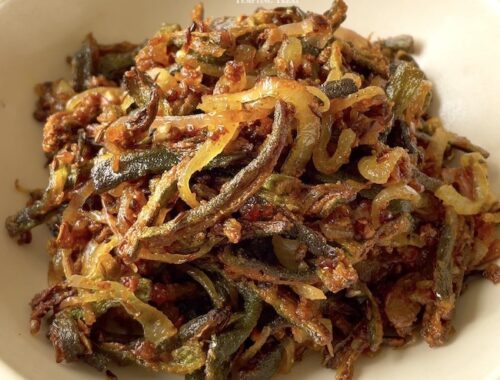 August 6, 2023