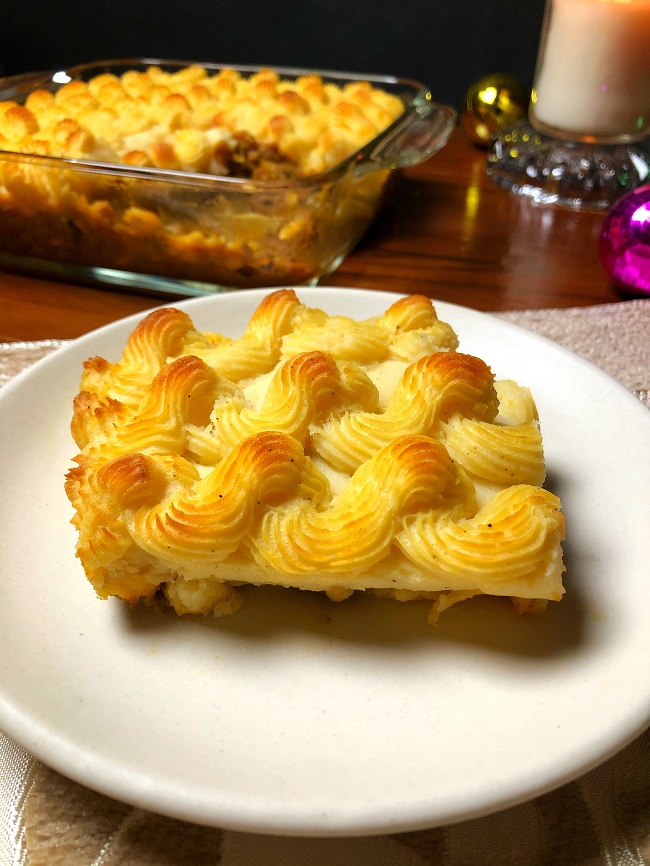 Desi Shepherd's Pie
December 25, 2020
Desi shepherd's pie, a quick and easy recipe that is perfect for your Christmas dinner! This casserole is made with minced mutton, lots of veggies and a rich mashed potato crust.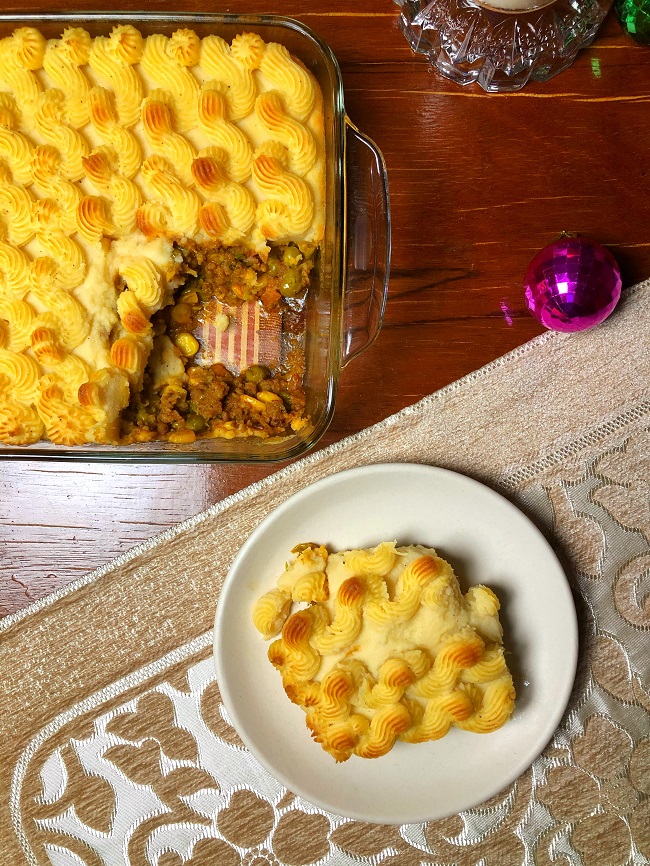 Here the meat filling is flavoured with Indian spices and is cooked in a pressure cooker. Which saves a lot of time. And you won't be needing Worcestershire sauce or beef broth for this recipe. Just cook both the meat and potato fillings, layer them in a baking dish and bake until the top get golden in colour. Desi shepherd's pie is ready to serve!
Watch the recipe video on YouTube:
Equipment required:
Pressure cooker
Saucepan
Baking dish
Piping bag with a Wilton 4B nozzle
Ladle/whisk
Oven/OTG
Ingredients:
For the meat filling:
500g ground/minced mutton, you can also use lamb
2-3 tbsp chopped garlic, around 10 small cloves
1 cup chopped onion, around 2 medium-sized onions
1 carrot, chopped
½ tsp red chilli powder
1 tsp turmeric powder
½ tsp black pepper powder
2 tsp meat masala, I have used Tata Sampann's meat masala powder
Salt to taste
2 tbsp all-purpose flour
3 tbsp tomato puree
1 cup frozen peas
1 cup frozen corns
1.5 cup water
2-3 tbsp chopped coriander leaves
1 tbsp oil
1 tbsp butter
For the mashed potatoes:
1kg potatoes, cut into small pieces
1/2 tsp black pepper powder
¼ cup fresh cream
5 tbsp butter
4 egg yolks
Salt to taste
Cooking Directions:
To make the meat filling:
In a pressure cooker, add oil and butter. Heat it over a medium flame. Once the butter melts, add the chopped garlic. Cook for a few minutes until it gets fragrant.
Then add chopped onions. Cook them for around 5 minutes.
Add chopped carrot and minced mutton in the pressure cooker. Cook for 2-3 minutes. At this point, the mutton will release a little water.
Once most of the water evaporates, add turmeric powder, red chilli powder, black pepper powder, 1 teaspoon meat masala, salt and all-purpose flour. Give it a good stir. Make sure there are no lumps.
Add tomato puree and cook for a few minutes until oil separates.
Then add frozen peas and corns. Mix well.
Pour water and give it a stir. Secure the lid and cook over medium flame.
After the first whistle, lower the flame. After the second whistle, turn the flame off.
Let it sit undisturbed for a couple of minutes. Then release the pressure carefully. And open the lid.
Note: Here the pressure cooking time depends upon the quality of the mutton. If it's good then it will be fully cooked after 2 whistles or else you will have to cook for a few more minutes.
Again turn the flame on. Cook the meat over medium flame for a few minutes until it thickens. Add 1 teaspoon meat masala powder and fresh coriander leaves. Mix well. Turn the flame off. Keep it aside.
To make mashed potatoes:
Take a saucepan and add the chopped potatoes in it. Fill the pan with water. Add salt.
Heat it over a high flame and bring to a boil. After that reduce the flame to medium and let it simmer for a few minutes.
It may take around 10-15 minutes and the potatoes should be fork-tender.
Drain the potatoes in a strainer/sieve. With the help of a ladle, mash and pass them through the sieve.
While the potatoes are hot, add butter, fresh cream, black pepper powder and salt. Mix well.
After they cool down a little, add the egg yolks. Using a whisk, combine everything together.
To assemble the pie:
Preheat the oven to 200-degree Celsius.
Take a baking dish, pour the cooked mutton. Spread it in an even layer.
Spread a thin layer of mashed potatoes over it.
Pour the remaining mashed potato mixture in a piping bag (fitted with a Wilton 4B or any other star nozzle).
Pipe it over the mashed potato layer. You can make any design of your choice. And if you don't have a piping bag then you can also use a fork to make a pattern.
Bake it uncovered for 25-30 minutes or until the potatoes become golden in colour.
Then take it out and allow it to cool down for 5 minutes. Then cut a slice and serve.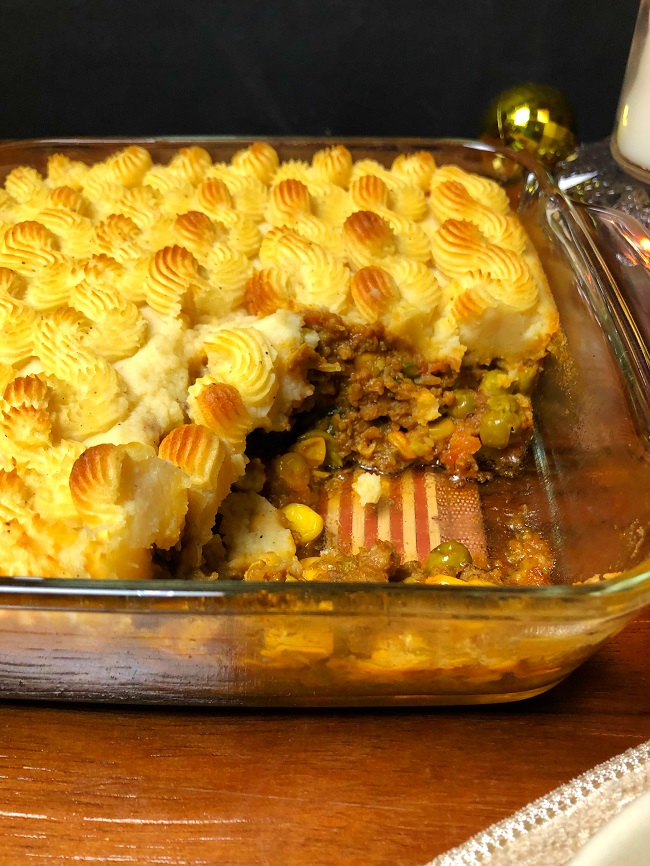 If you do try this recipe, please share your experience with me by posting a picture of the dish using #temptingtreat and @temptingtreat on Instagram or you can also give your feedback in the comments section below.
Happy Cooking!
You May Also Like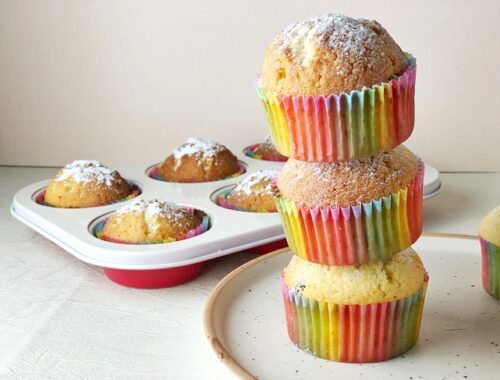 December 30, 2018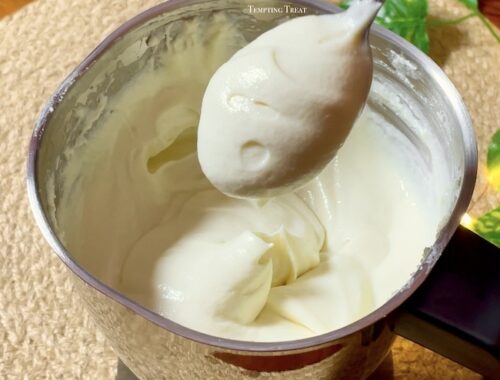 December 16, 2022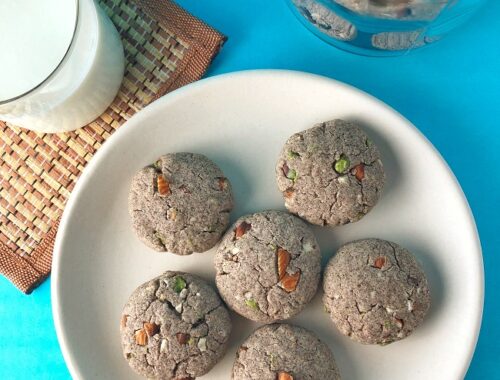 August 24, 2019