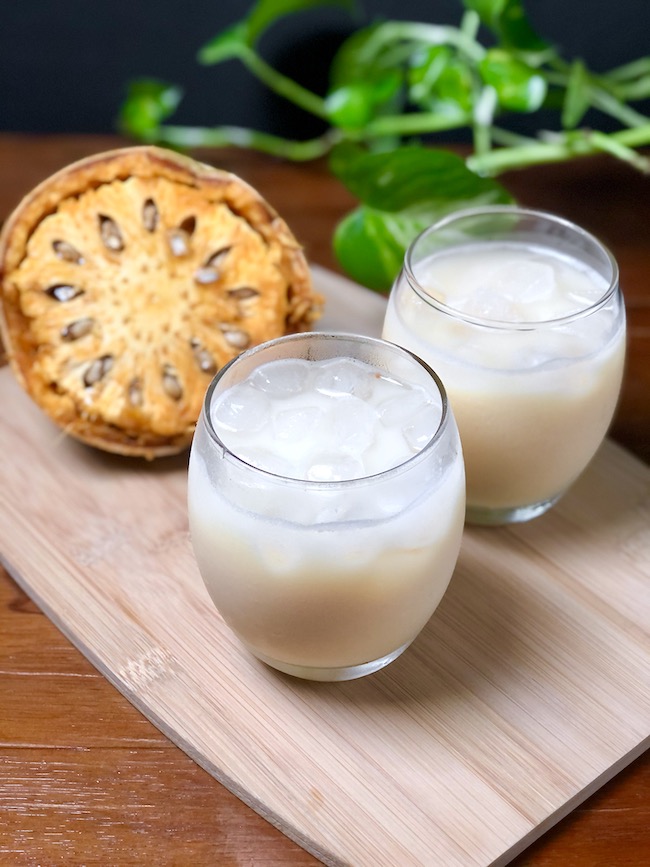 Bael Sherbet or Bel Ka Sharbat With Yoghurt | Wood Apple Juice Recipe
June 13, 2021
This healthy and refreshing bael sherbet is the best drink for the summer season. Bael or wood apple is a seasonal summer fruit that is rich in several nutrients and minerals. So including this bael-based drink in your diet is definitely a good idea. It is quite easy to make and tastes amazing.
Benefits of Bael or Wood Apple
Bel/bael is rich in a number of nutrients like vitamin A, B, C. It is also said to be rich in various minerals and fibre. This seasonal summer fruit is really good for digestion, it can help in problems like constipation, irregular bowels, acidity etc. Wood apples also help in maintaining blood sugar level and can also boost immunity.
Watch how to make Bael Sherbet at home:
If you liked this video then subscribe to my YouTube channel. And don't forget to hit the bell icon so you'll know whenever there is a new video.
How to break bael fruit or wood apple at home?
You can easily break the outer shell of a bael with the help of a pestle (a blunt and club-shaped object which helps in grinding ingredients in a mortar, also called hamandista). I have used a metal pestle here. You can also use granite, marble or ceramic pestle if you like, just make sure that it's heavy.
But if you don't have mortar and pestle then you can also use a belan/rolling pin, knife (with the top or spine or blunt side of the knife) or a hammer to break the wood apple.
Hit all around the bael until the hard outer shell cracks. Watch the video to see how it's done. Then with the help of a spoon, scoop out all the pulp and keep it in a bowl.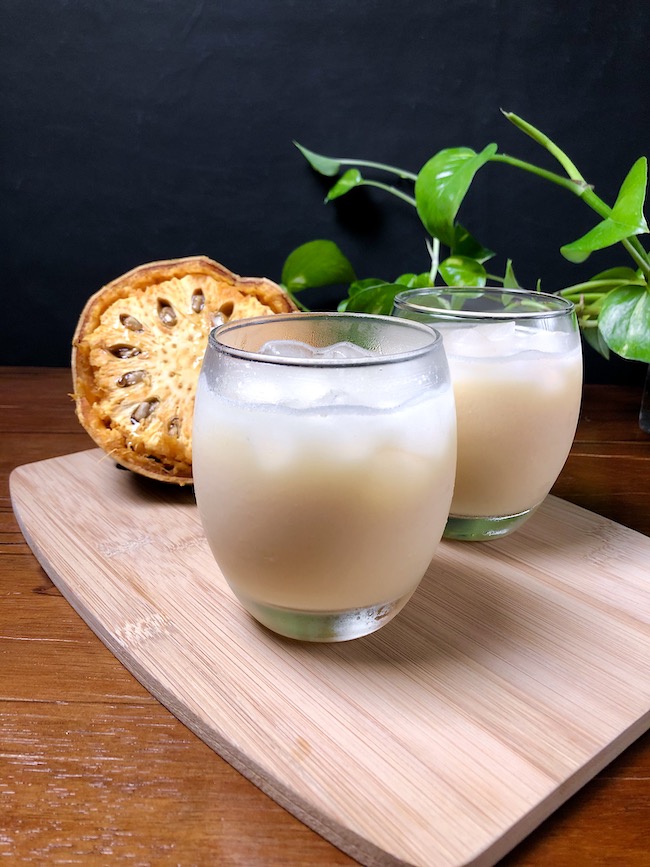 What to do if the pulp is not soft/ripe?
You should always use a ripe bael/wood apple to make sherbet. But if it's not so soft then soak the pulp in some water and keep it in the refrigerator for at least 30 minutes to an hour. This will soften the pulp and it will be easier to mash later on.
How to make Bel Ka Sherbet or Juice?
If you want to make bel/bael sherbet with just water then don't pour the curd into the mixture after straining the pulp. Just replace curd with water and all the other steps remain the same.
What can you use instead of sugar?
If you don't want to add sugar into the sherbet then you can also add honey or jaggery. You can adjust it according to your taste or the amount of sweetness of the bael.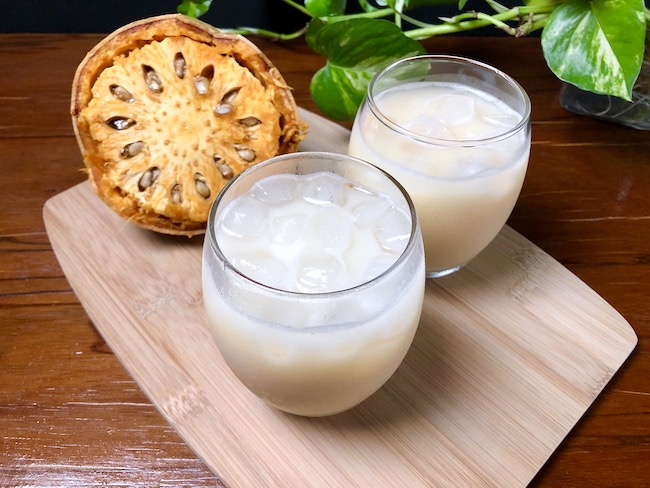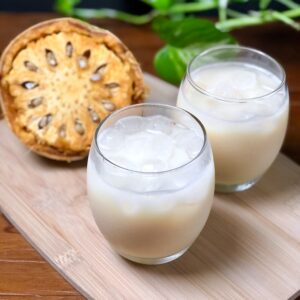 Bael Sherbet or Bel Ka Sharbat With Yoghurt | Wood Apple Juice Recipe
Sneha Paul
This healthy and refreshing bael sherbet is the best drink for the summer season.
Ingredients
½

bael or wood apple

3

cups

water

chilled

1

cup

curd/yoghurt

chilled and beaten or whisked

2

tbsp

sugar

¼

tsp

salt

Ice cubes

as required
Instructions
Rinse bael with water and break the outer shell with the help of a metal pestle.

Using a spoon, scoop all the pulp out and place it in a bowl.

Mash the pulp with the back of a spoon or you can use your fingers if you like. Make sure there are no large lumps.

Pour 1 cup water and give it a good mix. Check if there are any lumps left. If so, mash them well.

Then pour more water and mix again.

Place a strainer over a large bowl. Pour the bael and water mixture into the strainer. Strain it well.

Then pour the remaining water over the leftover pulp in the strainer. Using a spatula or spoon strain it well.

Discard the remaining pulp.

To the strained bael mixture, add curd/yoghurt, sugar and salt. Whisk well.

Add ice cubes in the serving glasses, pour bael sherbet and serve chilled.
Keyword
bel ka sharbat recipe, wood apple drink recipes
If you do try this recipe, please share your experience with me by posting a picture of the dish using #temptingtreat and @temptingtreat on Instagram or you can also give your feedback in the comments section below.
Happy Cooking!
You May Also Like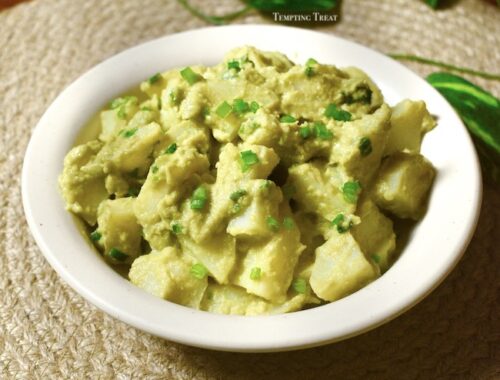 December 14, 2022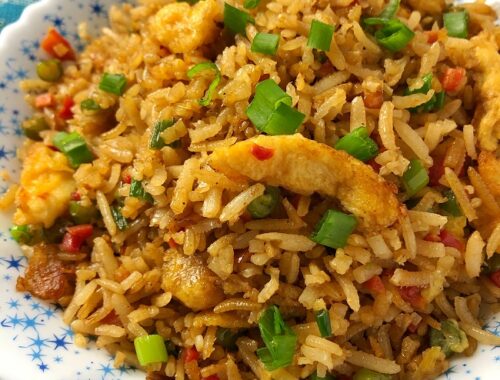 March 14, 2020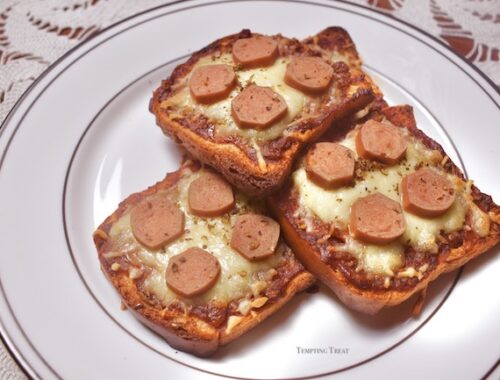 January 16, 2022