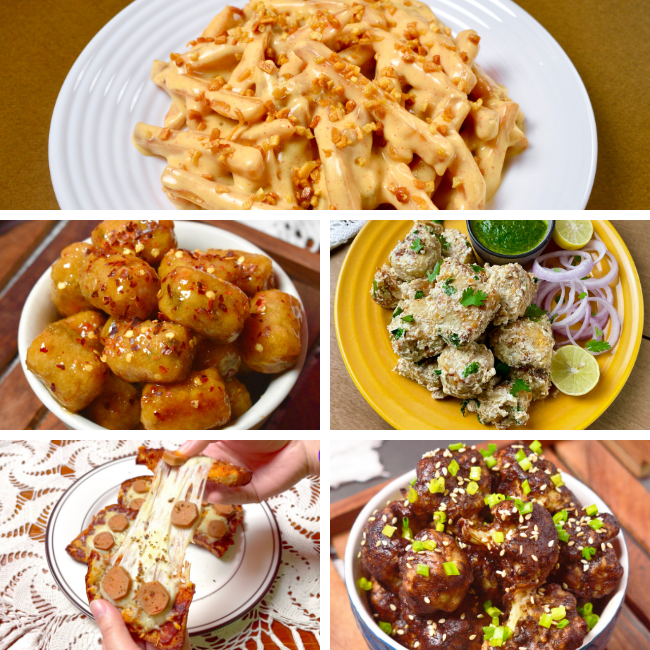 5 Easy Party Snacks Ideas | Christmas And New Year Party Food Ideas
January 5, 2023
Looking for budget-friendly finger food ideas for Christmas or New Year's eve party? Try these!
These 5 easy party snacks ideas are great for any party. Be it a new year party, birthday party, kitty party, tea party, office party, etc. All these recipes are super simple to make and taste amazing.
About the 5 snack recipes:
Garlic Cheese French Fries – A Great Readymade Snack!
Are you looking for a cheesy snack recipe? Then try his garlic cheese french fries recipe! These crispy french fries are coated with a super creamy and luscious garlic-onion flavoured cheese sauce, and it is topped with crunchy deep-fried garlic.
So if you love french fries, cheese and garlic, then you must try this recipe. This snack is so easy to make. Within just a few minutes you can make the ultimate comfort food!
About this recipe:
French Fries: Here I have used McCain's frozen french fries. Any kind of fries will work for this recipe. You can use crinkle-cut fries, curly fries, potato wedges, waffle fries, tater tots/potato bites, etc.
Cheese for the cheese sauce: In this recipe, I have used 6-7 Amul's processed cheese cubes.
Link: https://www.temptingtreat.com/2021/10/garlic-cheese-french-fries/
Chilli Honey Lemon Nuggets – Another Great Readymade & Last Minute Snack Idea!
Looking for an easy and instant veg snack recipe, then try this! A sweet, spicy, tangy honey-lemon veggie nuggets recipe that is so easy to make and tastes incredible.
Crispy baked nuggets coated with a hot, zingy, sweet and sticky glaze. These nuggets can be a great starter/appetiser for your kitty parties or you can also enjoy them as a tea time/evening snack. It takes very less time to prepare this recipe. You just have to bake the nuggets and then toss them with the sauce. This vegetarian snack recipe is light, simple and is made without oil/frying.
About The Veggie Nuggets:
In this recipe, I have used McCain's veggie nuggets. These are made with potato, carrot, capsicum and corn. You don't need to thaw them before cooking. Just place them on the baking tray, in a single layer, and bake for a few minutes until they are crisp and golden. You can also deep fry or shallow fry these nuggets if you like.
Link: https://www.temptingtreat.com/2022/03/honey-lemon-veggie-nuggets/
Tandoori Malai Soya Chaap – A Street-Style Homemade Snack Idea!
Learn how to make a tandoori malai soya chaap recipe in an OTG and in a non-stick pan at home. If you love soya chaap and want to make it at home then do give this recipe a try.
What is soya chaap?
Soya chaap is a type of vegetarian meat and its texture is quite similar to chicken. It is made with soy flour or soybean chunks, all-purpose flour, water and salt.
Want to know which soya chaap is best? Or how to cook/thaw/defrost frozen soya chaap? Or how to cook canned soya chaap? Then visit my blog.
Link: https://www.temptingtreat.com/2022/02/tandoori-malai-soya-chaap-recipe/
Baked Teriyaki Gobi – A Healthy And Budget-Friendly/Cheap Snack Idea!
Looking for a baked gobi/cauliflower pakora recipe? Try this baked teriyaki cauliflower! It is crispy, sweet, spicy and very healthy.
About the recipe:
This oven-roasted cauliflower wings recipe is vegan and has very less calories.
In this recipe, cauliflower florets are coated with rice flour and cornflour batter. Baked until they are crisp. Then brushed with teriyaki sauce and baked again for a few minutes.
Garnish them with sesame seeds and chopped spring onions. Serve immediately!
Cauliflowers will be crunchy on the outside and soft on the inside.
Link: https://www.temptingtreat.com/2022/02/baked-teriyaki-cauliflower/
Bread Pizza Toast – A Quick And Easy Snack Idea!
Quick and easy pizza toast recipe is made with bread, homemade pizza sauce, mozzarella cheese and sausage slices.
Link: https://www.temptingtreat.com/2022/01/easy-pizza-toast-recipe/
Watch how to make these easy party snacks at home:
Liked this easy party snacks ideas video? Then subscribe to my YouTube channel. And don't forget to hit the bell icon so you'll know whenever there is a new video.
You May Also Like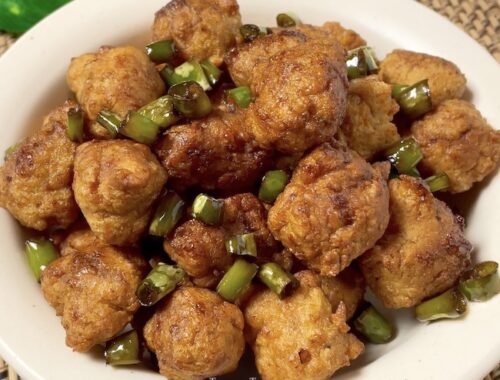 June 1, 2023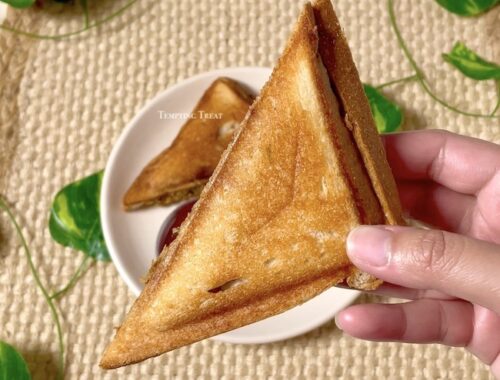 March 24, 2023