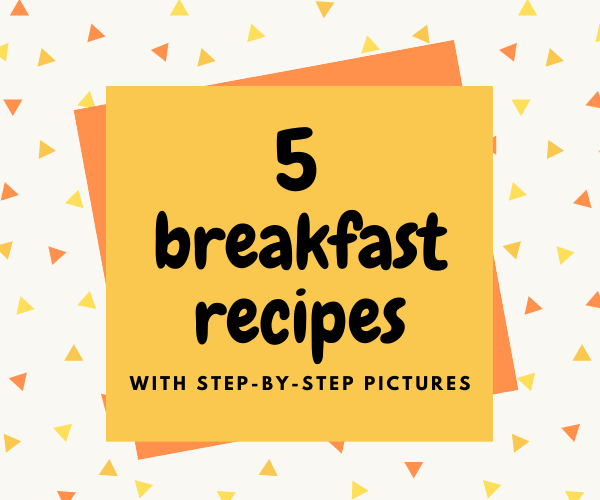 5 Breakfast Recipes eBook | One Year Blog Anniversary Special!
March 3, 2019
Hello everyone, today is a very special day for me. Exactly one year ago I started this blog. I can't believe how fast time has flown by. So to celebrate my one year blog anniversary, I am sharing with you all a breakfast recipes eBook. It features five quick and healthy breakfast recipes. You can easily download this pdf by clicking the link. It's totally free. So go ahead and download it now!
You'll find the following recipes in the ebook: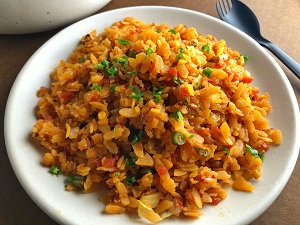 Schezwan Poha

Flattened rice tossed with spicy schezwan sauce and lots of veggies. It is the easiest fusion breakfast recipe that I have ever made. Just saute all the vegetables, add the sauce and soaked poha. Stir everything together and serve! You can surely prepare this dish under 20 minutes. You can also add any other ingredient of your choice. Like for example, you can add mushrooms, baby corns, bell peppers etc. This is the perfect recipe for all those busy mornings when you are running late for the office and don't have enough time to cook. Give this recipe a try and it will certainly save you some time.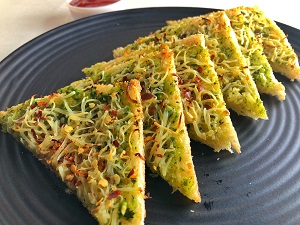 Chilli Garlic Toast

Spicy and cheezy chilli garlic toast made with just a few simple ingredients. Here I have shared a homemade chilli garlic spread recipe which you can store for 2-3 weeks in the refrigerator. And whenever you want to make this toast, smear this spread over the bread slices, sprinkle grated cheese and then you can either cook it in a pan or bake it in the oven. It's totally your choice. Both will have the same results. Serve this delicious toast for breakfast or an evening snack.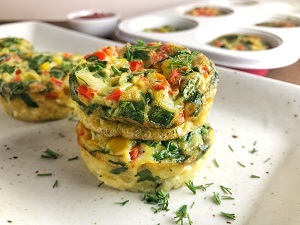 Egg Muffin Cups

Egg muffin cup is a healthy and wholesome breakfast recipe. These protein-rich muffins are loaded with veggies and is the perfect recipe for meal prep. You can easily make them ahead of time and store them in an airtight container for up to 2-3 days in the refrigerator. And reheat in the microwave for 10 seconds before you want to serve them. It is a simple yet flavourful recipe that you can modify as per your liking.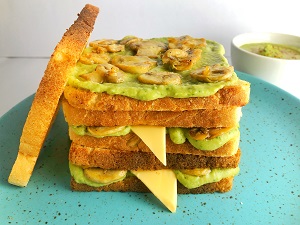 Mushroom Sandwich with Hummus
Healthy mushroom sandwich with creamy homemade hummus is a delicious vegetarian recipe. It is suitable for both breakfast and lunch. You can prepare the hummus and pan-fried mushrooms ahead of time, and assemble the sandwich when you are ready to eat. This will clearly save time and make your mornings more relaxed.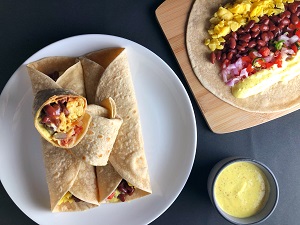 Scrambled Egg Burrito
Another healthy breakfast recipe made with soft scrambled eggs, kidney beans, salsa and a refreshing yoghurt sauce. Simply add all these components on a tortilla and roll it up. Scrambled egg burrito is ready to serve! This recipe will definitely make those hectic mornings easier. And along with being easy, this dish is nutritious too. Eggs and kidney beans are rich in protein. The flavourful salsa is loaded with vitamins. And these are wrapped with a tortilla which is made with whole wheat flour. If you want to know how to make whole wheat tortilla at home, don't worry, I have shared its recipe in the ebook. So don't wait anymore, click the link and download the free recipe ebook.
Other breakfast recipes on the blog:
If you do try these recipes, please share your experience with me by posting a picture of the dish using #temptingtreat and @temptingtreat on Instagram or you can also give your feedback in the comments section below.
Happy Cooking!
You May Also Like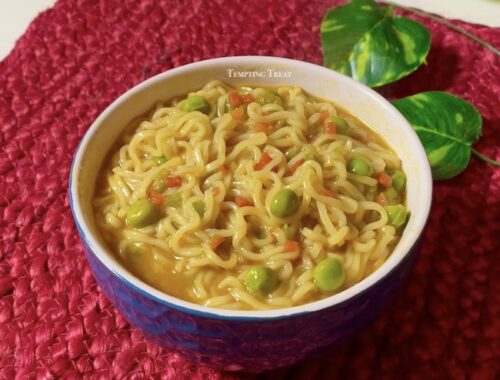 February 18, 2023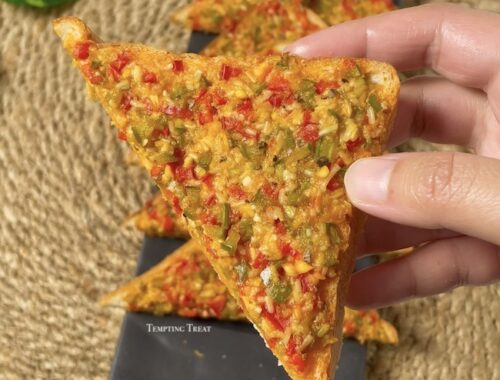 March 16, 2023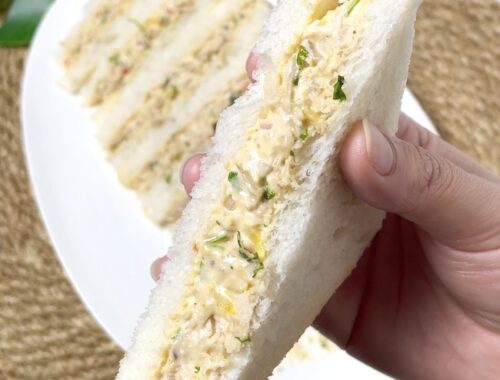 June 23, 2023